Very basic platform usage instructions
Let's adjust the graph so that it looks nice.
It's possible to enlarge / stretch the candle bars by pressing the Increase / Decrease bar spacing button on the hotbar:

At the bottom of the screen there is a button to select the time frame for our graph. Monthly, weekly and daily candle bars are the most used.

Click on the watch icon, not on the "As is (1 Month)" select box to its right.
A pop up menu will show, where you may select the interval you prefer. The EvE data is based on daily candles, that's the smallest time frame you should pick.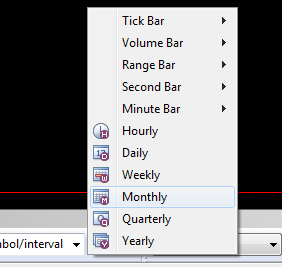 Finally, if you want to draw lines, trend lines and other objects, press the buttons on the bottom left of the platform screen. The second button (horizontal line) will be the one to use most of the time.

Once placed on screen, those graphic objects may be dragged and even cloned / customized / changed color by right clicking on them and selecting one of the various options.