NEISIN download page
NEISIN aka New Eden Interstellar Securities Identification Number.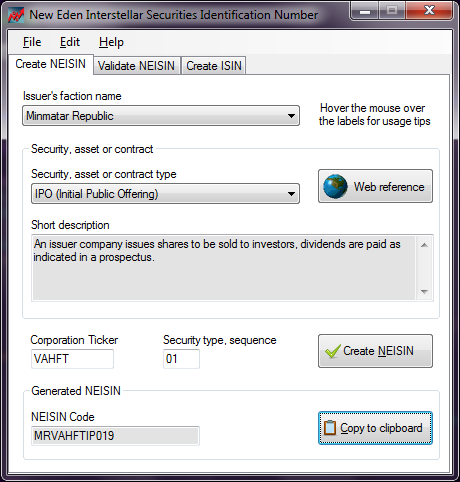 NEISINs are ISINs expecially tailored for EvE.
NEISINs are valid real life ISINs and like these they have the neat ability to be self checking codes and therefore harder to typo. A soon new thread will show how easy it becomes confusing when talking about investments of investments without a precise identifier.

To create (NE)ISINs a certain special algorithm is required and unsurprisingly enough most of those you will find to copy & paste on the Net are wrong.

In order to make it easy for every future Investee to make his own professional looking NEISIN, I created my first .Net application expressly for that.
It's free of charge (but you are not authorized to make money with it!).

It takes into account some nice role play and practical EvE elements:

– Like real life ISINs, there's a territorial element embedded in each NEISIN.
– Like Brazilian real life ISINs, it's fairly easy to track and bind the issuer in the code.
– Like Brazilian real life ISINs, it's fairly easy to understand the exact type of investment just by glancing at them.
– Like real life ISINs, the codes are self checking.

The program to generate NEISINs is still unfinished in some parts but for now it does its job.
Vahrokh.com in depth description for this software.
Official EvE Online forums page.
Download
Specs
Release date:
December 27, 2013
Last updated:
March 20, 2011
Current version:
1.01
Product type:
EvE Online

ISIN

codes generator
File format:
.zip
File size:
100k
Requirements:
Dot NET 4 runtime libraries
Price:

$0.00

USD