Consulting
Audit report for Jake Andarius business proposal
This is Vaerah Vahrokha's analysis as of 2012-03-06 08:00 EvE Time.
NEISIN code: GFATCOPBO019.
Official discussion: link to investment prospectus.
Public Audits Record (PAR) for this investment: backlink.
Tools used
jEveAssets
EvE Income Analyzer Crucible Edition
EvE Mentat
Microsoft® Excel™
Blender 3D => LuxRender
Paint.NET => Bolt Bait Pack, DPY Plugins, MadJik Pack, Vandermotten Effects
Forewords about the Audit
Jake Andarius is an high sec trader and mission runner.
In order to expand on his current activity he is starting an uncollateralized, public bond.
This audit will cover the trading activities past performance.
Generalities
Main character for this proposal is Jake Andarius, playing one account along with another associated player, a real life friend of him. He only plays one character (the Auditor made sure to check the other two were not just hidden by an EvE API setting). He trained several level IV and V skills for trading, contracting, hauling with industrials, L4 missioning.
Jake Andarius, is a February 2010 character with 9.2M SP.
Both his and his friend's and his friend's alt forum posting history are very short. They don't show evident ill-behaviors. There has not been found evidence of Jake Andarius first investment's thread posters being his alts. Killboard is minimal, only pertinent kill mail shows an early days loss of a 15M cargo industrial to an high sec suicide gank.
Statement of ability to deliver: the Investee has regular past and present market orders running.
Statement of past activity: the journal API records report a regular trading activity as far as the API allows to check for.
Player uniqueness test
It has been brought under the Investors attention how the Investee and his real life friend could actually be the same player trying to plead and push the bond.
The Auditor decided to perform a player uniqueness test. It is a quite effective check, even if does not claim to be a scientific trial in any way. There are ways to circumvent it, expecially if the test was used before or the test subject had time to prepare specific macros. Neither of these conditions were fulfilled in this case.
Jake Andarius and his friend were invited on two chats and given different instructions to do the following:

1) Press a button key to the upper left (USA keyboards) + ENTER
2) Press SHIFT + a button to the right + ENTER
3) Go to 1 till told to stop.

One player has been told to press "1 + ENTER + ] + ENTER" till told to stop, the other has been told to press  "z + ENTER + ampersand + ENTER" till told to stop.
Later, they were instructed to repeat the same operation on the same chat.
Additionally, they were checked about having different, concurrent, un-synchronized typing speeds (harder to fake).
Finally, a quick syntax style review verified that they had a different use of capital letters, different placement of them (i.e. one players types them on the next chat line, the other does not capitalize) and different lexicon.
The results of these checks were all positive. The test execution is available for everyone to see in these videos:
Video 1
Video 2
Video 3
Involvement in other business
As of March 5, Jake Andarius has liabilities for 2,351,172,724.46 ISK due to private investors (friends).
Business Plan Analysis
The Investee disclosed his trading strategy both to the Auditor and to the public. It involves leveraging on small, high value orders to take value out of the buy / sell spreads.

The business plan is about raising funds to be able to increase this effect.
The Investee is already in the proposed market niche, he does not need logistics.
The Investee may resort to L4 mission running, in case the investment does not produce the expected performance.
Feasibility statement: the business plan looks viable, look at the market performance analysis for further details.
Collateral and exit strategy
The Investee won't post collateral for this bond.
No exit strategy has been planned.
Net Asset Value and other balance considerations
The estimated net worth of all liabilities, solid & liquid assets is about 5.271B ISK.
Market transactions are made by the Investee character.
Assets across all of the characters and corporations are estimated to be worth 0.494B.
Important notice: the reported values may be lower than the real amounts, because certain assets in certain conditions are not reported by the API.
Assets and balance
1

">audit-record" border="0">

1

">audit-record" style="text-align: left;" colspan="3">

Balance

Wallet balance:

5.484

B

Market sell-orders:

1

.644

B

Market escrow:

0.000

B

Contracts:

0.000

B

Investments / receivable:

0.000

B

Liabilities / payable:

(2.351)

B

Total:
4.777
B
1

">audit-record" border="0">

1

">audit-record" style="text-align: left;" colspan="3">

Assets

POS:

0.000

B

Fleet / ships (unfitted)

:

0.403

B

Modules:

0.084

B

Misc. solid assets; minerals, salvage, ice and trade goods etc.:

0.000

B

Blueprint copies and originals:

0.000

B

Other

Accessories (includes PLEXes):

0.000

B

Charges:

0.004

B

Commodities:

0.000

B

Drones:

0.003

B

Ordered assets under construction:

0.000

B

Planetary items or resources:

0.000

B

Ship components:

0.000

B

General or classified items:

0.000

B

Total:
0.494
B
Estimated grand total: 5.271 Billion ISK
The above evaluations were made by using The Forge prices as reference.
Markets performance analysis
Due to the changes in the EvE® API, none of the analysis softwares used in the past seem to work any longer. In order to improve this audit's presentation, the Auditor ported and bug fixed one of them to the new standard. Thus EvE Income Analyzer Crucible Edition has born.
Income and expenditure
The following graph shows the income and expenditure in the last two weeks. Expenditure includes unrealized profit and losses.

Last two weeks income: 7.642B.
Last two weeks expenses: 5.911B
Total balance: 1.731B
Wallet balance
The following chart shows the variations in wallet liquidity.
Best selling items
The following graph shows which items were the best selling for the full API covered period. The Investee asked to have the item names blanked.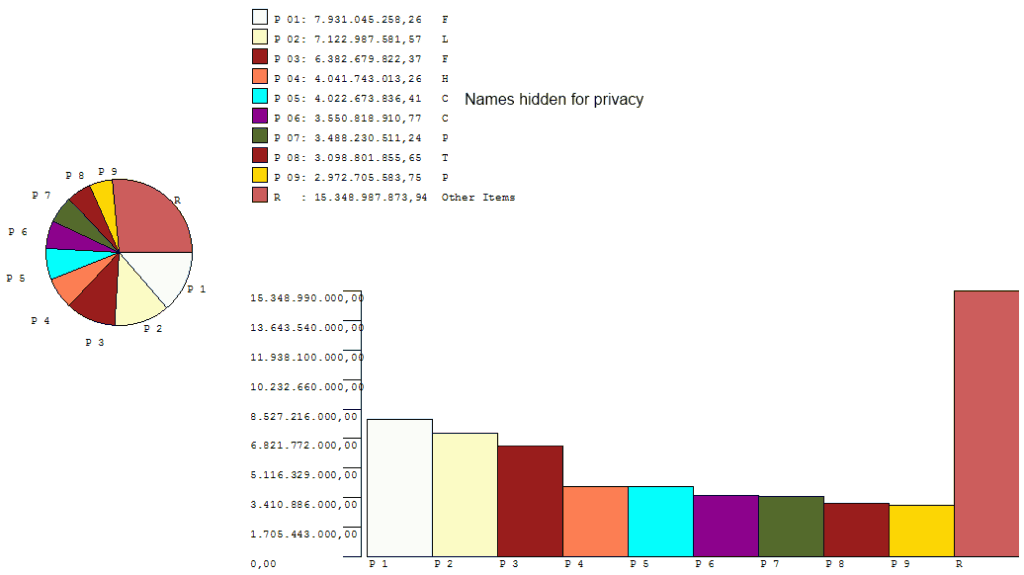 Trading efficiency
The following graph shows how much margin the Investee made by selling his stock. The "Efficiency" column shows the margin. In example, 0.22 means a 22% margin was achieved. The Investee asked to have the item names blanked.
The best item sales netted 22% profit.
There are items sold at a loss but they were mostly bought to run some missions, then dumped to buy orders.
The average sales netted a 7% profit.
Selling speed
The following graph shows how quickly the stock moved. The Investee asked to have the item names blanked.
Items and markets
The following graph shows which markets had the highest turnover for which item. The Investee asked to have the item and station names blanked.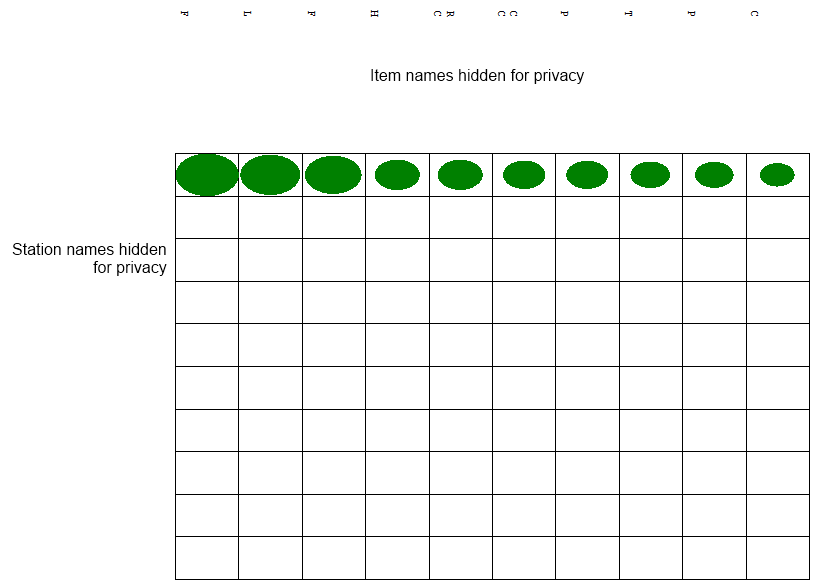 Time distribution
The following chart shows the time distribution (per hour and per day) of the sales.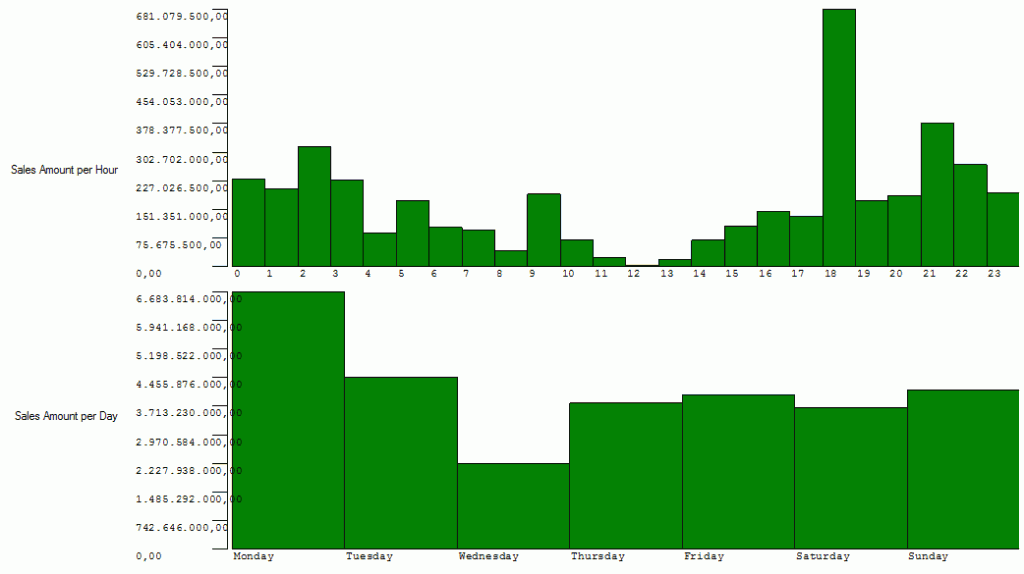 Positives
The Investee has the character skills to confirm his claims.
The Investee net worth is vastly more than the requested capital, the Investee is comfortable dealing with the involved amounts.
The Investee accepted an audit, replied to questions, accepted to subject himself and his friend to the "player uniqueness" check.
Small bond amount and sufficient interest rate.
Negatives
No collateral nor exit strategy have been provided.
Little posting history makes it hard to understand the personality of the Investee.
This bond could be seen as an attempt to "rep grind". The former bond failed to take off, this one could be a "try again with a smaller amount".
Trading is inherently a risky profession, investing hard on few items makes it riskier. There are past examples of this kind of trading working very well though.
Conclusions
Due to the lack of collateral and exit strategy and due to the risky kind of profession and the particular trading strategy involved, the Auditor classifies this investment as very high risk.
Please notice how "very high risk" does not mean "unsafe". It's two different concepts. Talking about high risk of bad performance (the Investee could just run missions to fix that), risk of real life complications etc. is one thing, the ever present chance of scam is another. The latter cannot be prevented by an audit, which only acts as first line deterrent.

The Investee seems competent (skills wise and player wise) enough to deliver on his statements and has past positive records. His business is in a growth phase, his API records show he may operated as he stated.

Basically, the Investee looks like having the ability to successfully honor the bond. Notice how an audit may only evaluate the ability or potential of an Investee to succesfully honor a bond / IPO.
The Auditor suggests perspective Investors NOT to invest their full capital on this venture but to offer what they could eventually afford to lose.
Disclaimers
Due to stringent EvE API limitations, although the information provided to you on this document is obtained or compiled from sources believed to be reliable, Vahrokh Consulting cannot and does not guarantee the accuracy, validity, timeliness, or completeness of any information or data made available to you for any particular purpose.
This Auditor is actively and passionately against any breach of privacy, in particular regarding in game mail API access. Therefore no information will ever be gathered and no audit will ever be released that will contain any element found by eavesdropping someone else's private communications.
Neither the information nor any opinion contained in this document constitutes a solicitation or offer by Vahrokh Consulting or its affiliates to buy or sell any securities, assets or services.